Lost Innocence True Cases of Stolen Children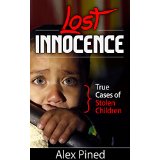 Introduction
There are thousands of cases of missing people every day across the world, though not all of them receive any media attention. Some though grab the headlines, and people suddenly become aware of a child who has disappeared. From the famous case of Madeline McCann who disappeared from Portugal and has never been found, despite extensive police investigations, to Etan Patz, the missing boy who was first put on a milk carton.
In many of the cases of disappearing children, the kidnapper is often found to be a parent; often a disgruntled parent undergoing a difficult divorce or frustrated by lack of custody. In these cases the child is often found and returned safely to their home.
In other cases the child is less fortunate and is killed by their abductor. Again many times it is a parent, or even a known pedophile. Sometimes the remains are found, but in many cases only fragments of clothing or other clues are discovered; the whereabouts of the body remaining a mystery.
A child disappearance is perhaps the most disturbing type of disappearance because children are seen as an innocent and unable to care for, or look after themselves. The horror the abducted child may experience goes without saying, and anyone who is a parent can't help but be disturbed by these disappearances.
When you realize just how many children go missing each year in the USA alone, you will be shocked. In 1999 over 800,000 children under the age of 18 were reported missing, with 200,000 of them abducted by members of their own family! In 2013, there were 462,567 entries into the FBI's National Crime Information Center for missing children under the age of 18.
When you realize that many of these children disappeared from their beds at night, from the mall or while walking home, you suddenly realize how important it is to look after your children and make sure you know where they are. Even letting your child run ahead on the street out of your view gives a potential abductor enough time to kidnap your child!
As you read this book you will learn the stores of many children who have disappeared. Some were found again, others were never seen again, while some still remain missing. Some children were subjected to unspeakable horrors during their disappearance, and you will be disturbed by the ease with which many of these children vanished.
The Beaumont Children
The Beaumont children lived in Adelaide, Australia in the 1960's. The three children (Jane – 9, Arnna – 7 and Grant – 4) lived in Harding Street, which was just a few minutes away from Glenelg, a popular tourist beach full of hotels, restaurants and attractions. Their disappearance shook Australia and changed the habits of a generation in supervising their children.
Like many other local residents, the children loved Glenelg and spent a lot of time there. Many local children took the bus from the Harding Street area to the beach resort.
On January 26, 1966 the three children left their home at 10am, as they had done many times before, to catch the bus and visit the beach. They were never seen again.
Eye witnesses confirmed that the children had arrived at the beach and were seen enjoying the company of a blond man. The eldest, Jane, was seen buying a meat pie and pasties from a shop at the beach using a £1 note. This was considered unusual as they had never bought a meat pie before, nor had their parents ever given them this kind of money (remember £1 was a lot of money in the 1960's).
At 3pm that afternoon, a postman confirmed that he had stopped and chatted to the children and had seen them heading in the direction of their home. They did not seem to be in a hurry even though they were three hours late going home.
Before the children disappeared, Arnna had told her mother that Jane had a "boyfriend" at the beach. Her mother assumed that meant that she had met a young lad who they were playing with. It is only with hindsight that it is thought that this "boyfriend" may well have been their abductor.
There have been many suspects in the disappearance of the Beaumont children, though no one has ever been brought to trial. One of the strongest suspects was Bevan Spencer von Einem who was known for kidnapping and murdering Australian children in the 70's and 80's. A credible witness (whose identity was kept secret in von Einem's 1984 trial) stated that von Einem had admitted to killing the Beaumont children. There is no proof of this, but he would have fitted the descriptions of the blond man.
The same witness said that von Einem boasted that he performed surgery on the children and had "connected them together" though one child had died during the surgery. So he killed the other two and dumped their bodies in the bush in Adelaide. Credibility is given to this statement as von Einem was known to be fond of children, and the coroner's reports stated that some murdered children had been discovered with evidence of surgical experimentation.
Months after the disappearance of the children, a woman reported that she had seen a man enter a nearby house that she thought had been empty. He had two girls and a boy with him, and later she'd seen the boy walking along a lane where the man caught him roughly. The next morning the house was empty. Police remain uncertain why the evidence was not provided earlier.
Two years after their disappearance, the parents receive two letters written, supposedly by Jane, and detailing "The Man" who was keeping them. They arranged to meet though no one showed up. The letters were later proved to be a hoax.
Today we would never think of allowing our children to travel on a bus alone at that age. Yet back in the 1960's when society was considered much safer, no one would have given it a second thought.
Their parents remained in their family home for years, in the hope that the children would come home. Many leads came forward including that they had been abducted by a religious cult. Reports were made of the children alive and living in different areas or even a hint about their burial site; yet no children or bodies were ever discovered.
Sadly the Beaumonts divorced, though even today the police are aware of their addresses in case any further leads are discovered. Both parents have resigned themselves to never knowing what happened to their children, and are attempting to live away from the public eye.
It is thought that the disappearance of the Beaumont children is related to the disappearance of Joanne Ratcliffe (11) and Kirsty Gordon (4) from the Adelaide Oval during a football match in 1973. These two children were seen in the company of an unknown man and appeared to be distressed. Descriptions of the man bear a significant resemblance to the man who had last been seen with the Beaumont children.
Between 1979 and 1984 numerous bodies of teenagers who had disappeared were found. All had been mutilated, as if some surgery had taken place. The last of these victims, Richard Kelvin (15), was tied to von Einem who was convicted and charged with his murder.
Von Einem has refused to co-operate with the authorities about any of the other murders, and even today the disappearance of the Beaumont children remains a mystery. No bodies have been found and what happened to them is completely unknown.
James Bulger
The disappearance of James (or Jamie) Bulger shocked the United Kingdom as the two-year-old boy was abducted, tortured and murdered by two boys who were just ten years old! Robert Thompson and Jon Venables kidnapped Bulger from the New Strand Shopping Center in Bootle, and dumped his mutilated body on a railway track two and half miles away.
On February 12, 1993, James Bulger's mother was shopping in the New Strand Shopping Center. CCTV evidence from the day shows Thompson and Venables playing truant from school and observing children in the shopping centre. These two children were seen stealing candy, batteries, blue paint and even a Troll Day video game. One of the boys later confessed that they were planning on abducting a child and pushing him into a busy road to get hit by a car.
James Bulger's mother (Denise) was in a butcher's shop at around 3:40pm and was momentarily distracted. Venables and Thompson swooped in and stole away James, who had wandered close to the open door. CCTV evidence shows them talking to James and leading him out of the shopping center by the hand, at 3:42.
Bulger was taken on a 2.5 miles walk across Liverpool. They had been challenged by a few members of the public but had told them that the toddler was their brother or that he was lost and they were taking him to a police station. No one intervened or accompanied them.
On the walk, they dropped Bulger on his head and joked about pushing him into a canal to drown. They arrived in the village of Walton and led Bulger up an embankment to a railway line near the disused Walton and Anfield railway station. There they started their torture.
They threw the blue paint into his left eye, kicked him, stamped on him, threw stones at him and placed batteries in his mouth. They then dropped a 22lb iron bar on the two year old, which fractured his skull in ten places.
The two older boys had removed Bulger's trousers, socks, shoes and underpants. The police assumed there had been a sexual element to the crime, though this was denied and never proved.
Before Venables and Thompson left the scene, they put Bulger's body on the railway tracks, weighing his head down with rubble so a train would hit him and the death would be seen as an accident. Shortly later a train passed and cut his body in half. Two days later his body was discovered, though the pathologist testified that Bulger had been dead before the train had hit him.
A massive police operation ensued at which time they found the CCTV footage showing the abduction. Public rage ran high and one boy was questioned. His family had to flee the city, even though he was proven innocent.
The breakthrough came when a woman recognized Venables and reported it to the police, knowing he had been truant with Thompson on that day.
The boys were arrested and tried for the killing. Both were detained, despite their age, and given new identities upon their release. Public rage still runs high, and the murderers are regularly moved around and given new identities to protect them from a violent backlash. Thompson has disappeared from sight, though Venables was arrested and jailed on child pornography charges.
Even now their identities are protected and their whereabouts unknown, as their safety cannot be guaranteed after committing such an atrocious and malicious crime.
Adam Walsh
Adam Walsh was abducted from a Sears store in the Hollywood Mall, in Hollywood, Florida on July 27, 1981. His case was publicized across America and in 1983, his story was made into a television film called "Adam". His father campaigned strongly for the victims of violent crimes and later became the host of the TV show "America's Most Wanted".
Adam had gone shopping with his mother, Reve. She stopped to check out some lamps, while Adam was at a kiosk a couple of aisles away, looking at the Atari 2600 games console with a number of other boys.
When his mother returned she found that all the boys had vanished. A store manager told her a scuffle had broken out over whose turn it was to play the game so the security guard had told the boys to leave the store. The guard had asked the children if their parents were in the store but it is believed that Adam was too shy to speak up. So he left the store with the other boys where he ended up alone near an unfamiliar exit.
On August 10, 1981, two fishermen found Adam's severed head in a canal on Vero Beach, Florida. A coroner ruled that Adam had died from asphyxiation and had been decapitated after his death to attempt to conceal his identity.
Originally the police suspected that John Walsh was involved in the murder, although he was found innocent a week later, and a press statement was televised nationally.
Eventually the police determined that Adam was abducted by Ottis Toole, a drifter who had been asked to leave the store that same afternoon. He lured Adam into his Cadillac with the promise of toys and candy, but as he drove off Adam began to panic. Toole hit the boy until he was unconscious, where he then choked him to death.
Along a deserted service road, Walsh was decapitated with a machete, and his body was incinerated at Toole's home in Jacksonville. The head remained in Toole's car for a few days before being disposed of in a canal.
Toole had wanted to "adopt" Walsh, but this was not going to happen due to the close relationship the boy had with his parents. The police investigation of the case was almost farcical as they lost the blood-stained carpet from Toole's car, the machete and even the car itself! However, as DNA testing was still in its infancy, it would have been difficult to test the blood to see whom it belonged to.
Toole confessed to the murder, then recanted his confession, confessed again and then repeatedly denied involvement. Toole was placed in the area where Walsh disappeared, but the loss of evidence severely hampered any possible prosecution. Toole was also a confidante of Henry Lee Lucas, a convicted serial killer. Toole's confession was considered to be reliable, as both he and Lucas were implicated in over 200 homicides! They had both accurately described details of the killings, which would only be known to the murderers themselves.
However, in 2007, allegations surfaced that Jeffrey Dahmer, a well-known serial killer and cannibal was also a suspect, and had been placed in the shopping mall on the day of Walsh' disappearance. According to witnesses, he was seen bundling a struggling child into a blue van before speeding off, and Dahmer's workplace owned a blue van. Witnesses identified Dahmer from pictures as the man with the child. Whilst Dahmer was well known for severing the heads of his victims, his preferred prey was usually at least eight years older than Adam.
Dahmer denied the murder, and no evidence linking Dahmer to Walsh's murder has been found.
As Toole died in prison from a liver ailment, the case was closed with Toole named as the murderer.
The kidnapping of Adam helped to create the National Center For Missing And Exploited Children. It also helped create the Code Adam program for children lost in department stores. And the Adam Walsh Child Protection And Safety Act was signed into law in 2006.
Charles Lindbergh Jr
Charles Lindbergh Jr was the son of the famous aviator and his kidnapping was one of the most highly publicized crimes in the twentieth century. On March 1, 1932 at the age of 20 months, the toddler was kidnapped from the family home in East Amwell, New Jersey.
The baby had been put to bed at 8pm that night by Betty Gow, the family nurse. About an hour and a half later, Charles, the father, heard a noise sounding like a slat had fallen off a full orange crate, in the kitchen. At 10pm, the nurse returned to discover the baby missing, and she asked Mrs. Lindbergh if she had the baby.
The house erupted into panic and the parents searched the house. His father found a white envelope in the baby's room, on the windowsill above a radiator.
Grabbing his gun, Lindbergh searched the house for intruders, and within twenty minutes the police were on their way, together with the family lawyer and the media. Three pieces of a crudely constructed ladder and a tire print were found, though much of the evidence was destroyed by the sheer amount of people who arrived at the crime scene.
The home and the surrounding areas were searched and partial fingerprints were found on the ladder, though nothing that could be used. The envelope found by Lindbergh was opened and they discovered a ransom note inside, riddled with grammatical errors and spelling mistakes.
The note read:
"Dear Sir!
Have 50.000$ redy 25 000$ in 20$ bills 15000$ in 10$ bills and 10000$ in 5$ bills After 2–4 days we will inform you were to deliver the mony. We warn you for making anyding public or for notify the Police The child is in gut care. Indication for all letters are Singnature (Symbol to right) and three hohls."
The circles and holes were a mystery and all avenues were explored, including the crime having been committed by a member of the mob.
John F Condon publically offered a reward of $1000 for the return of the baby to a Catholic priest. He received a letter from the kidnappers, authorizing him to be their intermediary with Lindbergh.
He placed a classified ad in the New York American saying "Money is ready. Jafsie" (Jafsie being his nickname), which resulted in a meeting with one of the kidnappers in Woodlawn Cemetery. The man sounded foreign, though hid in the shadows so Condon couldn't identify him. The baby was unharmed. He had been taken by a gang of three men and two women, and was being held on a boat awaiting payment. The kidnapper promised proof and on March 16, 1932, delivered the baby's sleeping suit.
After this delivery Condon placed another classified saying, "Money is ready. No cops. No secret service. I come alone like last time". On April 1 he received a reply stating they were ready to accept their payment.
A custom built wooden box was made for the money, which was made up of gold certificates that had to be cashed in shortly. In addition, the serial numbers of all the bills were recorded. All this was done to help find the ransom money after the drop off and lead the authorities to the kidnappers. Condon handed over $50,000 and was given a note saying the child was in the care of two women who knew nothing of the kidnapping.
On May 12, 1932, a delivery truck driver (William Allen) pulled over about 4½ miles south of the Lindbergh home, going in to the trees to relieve himself. He discovered the badly decomposed body of a toddler with a badly fractured skull. The body had been chewed on, and looked like it had been buried in a hurry. It was baby Lindbergh and he had been killed by a blow to the head.
When Congress learned of the find, they rushed through new legislation to make kidnapping a federal crime so the FBI could provide more assistance in the case.
Initially the kidnapping was thought to be an inside job and Violet Sharp, one of the servants, was considered a suspect as she was nervous and her statements were contradictory. She committed suicide on June 10, 1932, just before being questioned for the fourth time, although it was later determined that the worry of losing her job and the "heavy handed" police tactics drove her to suicide.
John Condon was even questioned by police and his home searched, with police believing he could have been involved, though he was ruled out as a suspect.
The gold certificates were due to be cashed in by May 1, 1933. A few days before that deadline, $2,980 worth of certificates was cashed in. But the bank was busy and the person completed the form with a fake name and address.
The ransom money was spent all over the state, but when a map was created it was shown that most of the bills were spent along the Lexington Avenue subway route which connected to East Bronx and Yorkville, a German-Austrian area. Eventually, through the gold certificates they found a Richard Hauptmann, searched his house and found $14,000 of the ransom money. Hauptmann declared his innocence saying that Isidor Fisch, a former business partner who had died on March 29, 1934, had given him the money.
However, when his apartment was searched, police found incriminating evidence. This included a notebook with a sketch of a ladder similar to that used in the kidnapping, Condon's address and telephone number, plus wood that matched the type used in the ladder.
Hauptmann was charged with extortion, kidnapping and murder, but pleaded not guilty. At his trial he was found guilty and sentenced to death, refusing to confess in exchange for life imprisonment.
On April 3, 1936, four years after the kidnapping he was electrocuted, though many questions were raised about evidence planting and witness tampering.Eloise Worledge
Eloise Worledge was just eight years old when she vanished from her bedroom on January 12, 1976, in Beaumaris in the state of Victoria, Australia.
At 8:30pm her mother, Patsy, left the house for her ballet class, leaving the children in the care of their father, Lindsay. At 10:30pm she returned home, checked each of the children in their bedroom and went to bed herself at around 11pm, while Lindsay stayed up watching TV and drinking. The couple were in the process of separating, hence the difference in their night-time routines.
At 11:40pm Lindsay retired, not realizing that they had not closed the front door.
At 7:30am Patsy woke up and realized that the screen in the window of their daughter's bedroom had been cut, and their daughter was missing. She ran to a neighbor's home while Lindsay called the police, who later recalled his phone call as being strangely unemotional.
For three weeks, 250 police officers searched for Eloise but found no trace of her. The hole in the screen was determined to be too small for someone, either a child or adult, to get through, and was believed to be a distraction and that instead the front door had been used. The screen had also been cut from the inside, not from outside.
The night Eloise had vanished was a busy night with over 200 suspicious incidents being logged in the area, ranging from crying children to car doors slamming. At 2am on the morning of her disappearance, a dark green car was reported speeding down their street.
Twenty years later the case was reopened, yet there are still no clues as to how she disappeared or, more importantly, what happened to her. As her father was due to leave the family home on the day of her disappearance, suspicions naturally fell upon him, though no evidence has ever been found.
Despite rewards being offered and the case being re-examined, no clues or evidence have ever been found and detectives have no idea what happened to Eloise. The noises at 2am seemed to be linked to her disappearance. And it is thought she left through the front door with someone she knew, being too shy to leave with a stranger. Her whereabouts today is unknown and detectives do not even know if she is dead or alive.
Etan Patz
Etan Patz was just six years old when he disappeared on the morning of May 25, 1979, from Lower Manhattan in New York City. His disappearance spurred the creation of a missing children's movement, including new legislation and methods of tracking missing kids. He is perhaps most famous for being the first child to have his picture on milk cartons across America, in the hope of finding him.
On the morning of May 25, Etan left his home to head to school in what was considered a safe neighborhood. He made his way to the school bus pick up point, as he always did, and was last seen near an intersection, waiting to cross the road.
That evening, when Etan failed to return home the police were notified. Over a hundred offices searched the area, with pictures of Etan being placed all over the city.
One witness reported seeing Etan talking to a suspicious looking blonde man, as he was heading to the bus stop. It was three years before police got a solid suspect in the form of Jose Antonio Ramos, a known pedophile who was caught trying to lure children into a tunnel in New York. While Ramos admitted to having seen Etan, there was insufficient evidence to bring any charges against him, so he was released.
In 1985 though, Ramos was rearrested. During questioning he admitted to trying to take Etan back to his apartment for sex, but gave up and put him on a train to his aunt. Ramos was reasonably certain that the boy was Etan, after seeing a picture of him.
While Etan was declared officially dead in 2001, the police reopened the case in 2010. In April 2012 they began to excavate a basement at 127B Prince Street, near to where Etan had lived, though nothing was found.
In May 2012 Pedro Hernandez confessed to strangling Etan and throwing his body in the garbage, although his lawyer stated that Hernandez suffered from a history of hallucinations and mental illness. According to his sister, it was an open secret in their church that Hernandez had killed Etan. By 2013 the case was still being built and heading towards a trial.
Etan's unfortunate disappearance led to children being educated about "stranger danger" and more care being taken in children getting to school bus stops. Sadly his body has never been recovered.
Jaycee Lee Dugard
Jaycee Lee Dugard was kidnapped at the age of 11 years on June 10, 1991 from South Lake Tahoe in California. She was walking to the school bus stop and taken from the street. An immediate search for evidence and leads proved fruitless, and her case rocked America, as it was eighteen years until she re-appeared again.
The media descended on the area to cover the story within hours. Over the next few days, local volunteers assisted the police in the search for Jaycee, with tens of thousands of fliers and posters mailed to businesses across the United States.
Jaycee was kidnapped by Phillip Garrido and held hostage in a concealed area behind his house in Antioch. During her captivity she was repeatedly raped and kept subdued. When Jaycee was finally found, she had two daughters who were ages 11 and 15. Phillip and his wife Nancy were put on trial and found guilty. Phillip was sentenced to 431 years in jail, with Nancy receiving a 36 years to life sentence.
The first thing Garrido did after kidnapping Jaycee was to force her into the shower. For the first week she was kept in handcuffs and raped by him. He would bring her fast food and occasionally entertained her with stories. She had a bucket to relieve herself in and was at one point given a TV, but was unable to watch any news.
About 45 days after her kidnaping, she was moved to a larger room and handcuffed to the bed. Garrido explained that he had been allowed to take her by the "demon angels", so she could help him with his sexual problems as society had let him down.
He told her that by having sex with him, which was videotaped, she would be protecting other girls from his sexual urges. Her time in captivity, particularly early on, was unpleasant, with Garrido going on methamphetamine binges, dressing Dugard up and making her listen for voices he could hear coming out of the walls. He would even threaten to sell her to people who would keep her in a cage, then sob and apologize to her for her situation.
After seven months of captivity Jaycee was introduced to Garrido's wife, Nancy, who brought chocolate milk and a stuffed animal, and also apologised to her. Nancy seemed to be an expert manipulator and would alternate cruelty with motherly concern. Jaycee later described her as evil and twisted, and Nancy became Jaycee's jailer when Phillip failed a drug test and was returned to prison. They gave her kittens and then removed them to manipulate and control her, and refused to allow her to even say or write her own name.
After 34 months she was allowed some freedom from handcuffs, though kept in a locked room. It was not until April 3, 1994 that she had cooked food again and at that time, aged just 13; they informed her they thought she was pregnant.
Jaycee watched TV programs about childbirth in preparation for the birth of her first daughter, who arrived on August 18, 1994. Her second daughter was born on November 13, 1997. Using what she had learned from TV, she raised her daughters and worked to protect them from Garrido.
Unfortunately for Jaycee, the police made a number of errors in investigating her case. This resulted in a $20,000,000 payout being made to her by the state of California as a form of compensation.
Police failed to connect the fact that Jaycee had disappeared in the same area where Garrido had kidnapped and raped Katherine Hall in 1976. In June 2002, the fire department responded to a juvenile with a shoulder injury at the Garrido home. This information was not relayed to Phillip's parole officer who would have had no record of a juvenile at their home, or of the swimming pool where the injury supposedly occurred.
In 2006, a neighbor called 911 to tell them that children were living in tents in his backyard, and that Garrido suffered from sexual addictions and was psychotic. A deputy sheriff visited the home and questioned Garrido about this code violation for half an hour, but never searched the property or pushed to see the children.
On August 24, 2009, Garrido walked into the FBI office in San Francisco and deposited a four page document outlining his personal ideas, sexuality and religion. He told the FBI how he had cured his criminal sexual behaviour, and how his method could help the FBI cure other sexual predators. The same day, he visited the University of California to talk to the Berkeley police office to ask permission to hold a special event on the campus. He was seen to be erratic and had brought his two daughters who were both sullen and submissive. Lisa Campbell, the special events manager, arranged for him to return the next day for an appointment and to leave his name.
On conducting a background check on Garrido, Ally Jacobs (an officer on campus) discovered that he was a registered sex offender on parole. The next day Jacobs sat in on the meeting and noticed that the girls were extremely pale and behaved unusually. Unfortunately there were no grounds to arrest Garrido, so she phoned his parole officer and reported her concerns.
The parole officer visited his home, handcuffed him and searched the home, finding only Nancy and his mother. Garrido told the officers that the girls were daughters of a relative, though he had been barred from being around minors a month before, and had travelled 15 miles beyond the limit he could travel without permission from his parole officer.
His file was reviewed and he was returned home, under orders to return the next day for further questioning. The next day he dutifully returned, together with his wife, Jaycee and her two daughters. He introduced Jaycee as Allissa though the parole officer separated the group for identification and questioning.
Initially Jaycee kept up her identity as Allissa, telling investigators that the girls were hers and that Garrido was a changed man who was good with her kids. She became very agitated and defensive when pushed for details about her identity, eventually telling officers she was a battered wife hiding from an abusive husband.
The police were called and on their arrival Garrido confessed, at which point Jaycee admitted who she really was. It was thought that she was starting to show signs of Stockholm syndrome and almost did not want to be free.
After her release she wanted to live a normal life with her family and children, sending a message to Garrido's trial rather than attending it.
Madeleine McCann
The case of Madeleine McCann is one that is still under investigation, with the British police returning to Portugal in recent months to search for leads. On May 3, 2007 Madeleine disappeared from the holiday resort of Praia da Luz in the Algarve, Portugal. Her disappearance was widely covered by the media, making the case extremely well known.
On that fateful night Madeleine's parents, Kate and Gerry, were having a meal with friends while Madeleine and her twin siblings were asleep in an unlocked apartment around 100 meters away. The group took turns in checking on the children and at 9:30pm only the twins were seen in bed. At 10pm when her parents returned, they found that Madeleine was missing and her bedroom window was wide open.
A massive manhunt ensued with suspects including Robert Murat, a Portuguese / British national and the McCann's themselves, though they were cleared during the investigation. DNA analysis seemed to indicate that Madeleine had died in the apartment, but this was shown to be a misinterpretation of the evidence and they were removed from the suspect list.
British police re-opened the inquiry in 2011 and Portuguese police did the same in 2013, releasing e-fit images of a man seen carrying a child from the resort.
However, evidence is scarce and there are no true leads in this case. Rumors surfaced of the McCann's having accidently killed Madeleine by administering her a sleeping tablet so they could enjoy their meal in peace, and having disposed of her body off of a boat. Official thoughts were that she had been abducted by a pedophile ring or gypsies, and sightings continued for years after her disappearance.
At the time, there were reports of various suspicious men who were around the apartments, though being a holiday village there could have been any number of holiday makers trying to be quiet and not wake people up, or arguing.
Today no one knows what happened to Madeleine, and police are still baffled by her disappearance and current whereabouts.
Natascha Kampusch
Natascha Kampusch was abducted off the street at the age of just 10 on March 2, 1998 in Austria, near the Donaustadt district of Vienna, while on her way to school. The alert was raised after she did not arrive at school, or appear back at home.
According to a twelve year old witness she was dragged into a white minivan by two men, though her witness statement given later did not report a second man at the abduction.
She was kidnapped by Wolfgang Priklopil and during the initial investigation police searched 776 minivans, including his. Priklopil told police he was alone at home and had been using the van for moving rubble, an explanation they were happy with.
Speculation ran rife, ranging from child pornography rings through to organ theft and more. Kampusch had been carrying her passport, so the search for her extended abroad. Her mother was allegedly involved in the abduction, though no evidence has ever been found to indicate this.
For eight years Kampusch was held in a five square meter (54 square foot), soundproofed, windowless cellar, with the entrance hidden behind a cupboard. For the first six months she was kept in this cellar. Slowly over the years to follow, she was allowed to spend more time upstairs during the day, but was sent back to the cellar to sleep or when her captor was at work. Later still she was allowed outside and was taken out for short trips by Priklopil, where she was carefully watched and had no opportunity to escape.
Priklopil beat Kampusch until she could barely walk, and then he would take pictures of her. He starved her so she was too weak to escape, and her BMI dropped as low as 14.8 during her imprisonment. Priklopil also subjected her to repeated rapes, during her captivity.
On August 23, 2006 at the age of 18, Kampusch was vacuuming her kidnapper's van when he received a phone call. Priklopil walked away from the van as the vacuum was too loud for him to hear his call, so Kampusch left the vacuum running and made her escape.
She ran down the street, asking people she passed to call the police, although they ignored her. A few minutes later she got the attention of a 71 year old neighbour, Inge T. and told her who she was. The police were called and arrived a few minutes later to rescue her.
Kampusch was identified by DNA tests and a scar she had on her body. Later, her passport was recovered from her cellar prison and used as further confirmation. She weighed just 106 pounds (48kg), looked pale and shaken, and had only grown around six inches since her kidnapping.
During her captivity she read books and listened to a radio station, which promoted education and classical music. She had taught herself new skills, including knitting, in an attempt to deal with her captivity.
Priklopil committed suicide by throwing himself in front of a train near Vienna. Kampusch went on to write a book about her experience and host her own TV chat show. Since her abduction, she has bought the house she was held hostage in and filled the cellar in to ensure it cannot become a macabre memorial to her. She seems to have survived her ordeal well and has made the most of her life since her escape, though undoubtedly the scars of the ordeal will haunt her for the rest of her life.
Steven Stayner
Steven Stayner was kidnaped from Merced, California at the age of seven on the afternoon of December 4, 1971. He escaped at the age of 14 in 1980, rescuing Timothy White, another hostage, at the same time. Sadly, in 1989 Stayner was killed in a motorcycle accident on his way home from work.
On that fateful afternoon, Ervin Murphy, an acquaintance of Kenneth Parnell, approached him on his way home from school. Murphy was a very trusting, simple minded man who had been recruited by Parnell, a convicted child rapist, to help abduct a young boy to raise him in a "religious type deal".
Murphy was passing out gospel related pamphlets to boys on their way home from school, looking for donations for a church. Stayner was asked if his mother would donate anything to the church. He replied yes and said that he would take Murphy to his home. He got into a white Buick driven by Parnell and was taken to a cabin in Catheys Valley (which interestingly enough was just a few hundred feet from where his maternal grandmother lived).
The next morning Stayner suffered his first molestation at the hands of Parnell. When Stayner said he wanted to go home, Parnell informed him that he had been granted legal custody of the boy because the parents did not want him and couldn't afford him.
Parnell referred to Stayner as Dennis Gregory Parnell, retaining his real middle name and using his real birth date to enrol him in schools, as they moved frequently around California. Parnell allowed Stayner to start drinking, and to come and go as he pleased, even giving him a dog as a gift.
One year, a woman called Barbara Mathias lived with Parnell with her own children and was completely unaware that Parnell's son "Dennis" had been abducted.
Parnell's interest in Stayner waned as he entered puberty and so he kidnapped another boy, Timmy White, from Ukiah, also in California. White was extremely distressed by his abduction, so Stayner decided to escape with the younger boy and return him to his parents.
On March 1, 1980 whilst Parnell was working his night security job, Stayner left with White and hitchhiked into Ukiah. He was unable to find where White lived, so went to the police station where they were both taken into custody. Their identities and stories were revealed and the police took immediate action.
Early on March 2, 1980, Parnell was arrested for abducting the boys and tried for the kidnapping of both of them, in two separate trials. He received seven years in jail, but was paroled after just five years. Sadly he was not tried for the sexual assaults on the children, as they occurred outside of the Merced county prosecutor's jurisdiction or were beyond the statute of limitations. The Mendocino County prosecutors did not press charges against Parnell, probably due to a desire to protect Stayner and because of his reluctance to discuss the sexual assaults from his captivity.
The Californian state laws were changed to permit consecutive prison terms for abduction cases like this.
Stayner had issues adjusting to family life, as he had been able to do as pleased in Parnell's house, both smoking and drinking. In an interview with Newsweek after his escape he said:
"I returned almost a grown man and yet my parents saw me at first as their 7-year-old. After they stopped trying to teach me the fundamentals all over again, it got better. But why doesn't my dad hug me anymore? [...] Everything has changed. Sometimes I blame myself. I don't know sometimes if I should have come home. Would I have been better off if I didn't?"
Stayner received some counselling, but never disclosed full details of the abuse he suffered at the hands of Parnell.
Stayner got married and had children of his own, something that helped him deal with his years in captivity. Sadly he was killed on September 17, 1989, when his motorbike collided with a car that had pulled into traffic.
Fusako Sano
Fusako Sano lived in Japan and was kidnapped at the age of nine on November 13, 1990 while watching a baseball game at her school in Sanjo, Niigata Prefecture, Japan.
Immediately the police started an operation to find her, even considering the possibility that North Korean intelligence operatives had kidnapped her, as they had other children.
She had been kidnapped by Nobuyuki Sato, a 28 year old mentally disturbed man who was unemployed. He held her for nine years and two months in his apartment in Kashiwazaki, also in Niigata Prefecture. Interestingly, the house was just 200 meters from a police substation and just 55km from where she had been snatched.
Sano was naturally frightened by her capture and, according to her own statements; she gave up eventually and accepted it as her fate. She had been kept tied up for some months, and she was punished with a stun gun for things like not videotaping the horse racing on the television. She was threatened at knife point and beaten.
She had to wear his clothes and was fed three times a day. Sato's mother lived downstairs in the apartment, and so she rarely got to take a bath, as the bath was downstairs.
Most of Sano's time in captivity was spent listening to the radio and she only got to watch television in her final year of captivity. While the door was not locked, she did not leave the house for the whole nine years of her captivity, being too afraid to try to escape.
Soon after this, Sato caused a disturbance and the police were called. Sano, then 19, took this opportunity to tell the police who she was and that she was being kept against her will.
She was dehydrated, pale, had jaundice, suffered from post-traumatic stress disorder and mentally acted like a child, having never had the chance to grow up.
She has struggled to adjust to normal life and enjoys spending a lot of time by herself. She does not talk about her ordeal or what happened during her captivity.
Sato was convicted of the kidnapping and sentenced to just 15 years in jail, though he will likely be released after 14 years. The police were heavily criticized after the discovery because Sato's name had been removed from the suspect list right after Sano had disappeared. This was despite the fact that he was known to police for violence against another girl in 1989. This and other errors led to both the Prefectural and Regional police chiefs resigning in 2000.
Megumi Yokota
The disappearance of Megumi Yokota is a fascinating twist on the usual abduction stories about children and turns into a tale of international espionage and intrigue!
In November 1977, Megumi Yokota left to go to school but never arrived there or came home. For years, her parents searched for information about their daughter and found nothing.
A couple of years later, they learned that Japanese citizens had been disappearing from the coastal areas facing North Korea. It was believed the North Koreans were abducting Japanese people for some reason.
In 1997, a North Korean defector revealed that Megumi had been taken by the North Korean government to help train North Korean spies to blend in with the Japanese. He revealed that Megumi's kidnapping was a mistake and that it was not until after she had been taken that they realized she was younger than they thought.
It sounds like a tale out of a spy novel, but in 2002 North Korea admitted to taking 12 Japanese citizens in the 70's and 80's. And Megumi was one of those taken. According to the North Koreans, she committed suicide at the age of 29 and her alleged ashes were returned to Japan. DNA testing supposedly showed the remains did not belong to Megumi.
According to the defector, Megumi married while in North Korea and had children, with her daughter still being alive. Her husband confirmed Megumi's death and said she had suffered from severe mental illnesses, which resulted in a number of attempted suicides. Even when watching his interview, some did not believe what her husband was saying and thought that he was reading from a script, rather than speaking the truth.
Whether Megumi is alive or dead is unknown, as is where she is now. Many feel the North Koreans took her but that she is still alive, either held captive or under close watch by North Korean agencies. Her parents still hold out hope of finding her and have met with their granddaughter in Mongolia.
Nicholas Barclay
On June 13, 1994 Nicholas Barclay, aged 13, was playing basketball with friends in San Antonio. He called his mother to pick him up, but she was asleep and his brother would not wake her up. Nicholas did not make it home that day and vanished.
Despite extensive investigations, no leads were found. But in October 1997, the family received news that he was in Linares, Spain in a youth shelter. He had contacted local police and told them he had been abducted by a pedophile ring, and had been kept hostage for three years before managing to escape.
His sister flew to Spain to identify him, but his appearance had changed. For one, he now had brown eyes rather than blue, and he had developed a French accent! The family were desperate to believe it was Nicholas and he was flown back to Texas, though other people were suspicious.
DNA testing and fingerprinting took place, and it was discovered that Nicholas was actually a 23 year old French con artist called Frederic Bourdin. For his con, Bourdin was sentenced to six years in jail, before being deported back to Europe where he continued to get into legal trouble by taking on the identities of other missing children.
Nicholas did occasionally act in an aggressive manner and had earned a juvenile criminal record from threatening a teacher and breaking into a convenience store. He disappeared the day before a hearing to determine his placement for his activities. A placement in a group home was the most likely outcome; something he was very much against happening.
Unfortunately no evidence in the disappearance of Nicholas has ever been found, although authorities suspect foul play with his body possibly still somewhere in the San Antonio area. Whether he was killed or ran away will never be known and his parents still wonder what happened to their little boy.
Sodder children
It was Christmas Eve, 1945 and five of the Sodder children were allowed to stay up late while the other siblings and parents went to bed. Not long after midnight the mother woke up to the sound of the phone, and an hour later a noise on the roof woke her up again.
Just a few minutes later she realised that the house was on fire so she and her husband and children ran from the house, only to get outside and realize that the five who stayed up late were not with them. They always kept a ladder near the house and she searched for it to rescue the children but couldn't find it. The ladder was discovered not far from the home a few days later.
There were no sign of the other children and it was believed they had died in the fire. The parents though, were convinced that the fire had been set to cover up the kidnapping and they spent a fortune hiring detectives to investigate and search for traces of their missing children.
Four years after the fire the parents had the grounds of the home excavated, searching for clues, and found six small bones, free from fire damage, which were thought to belong to a young adult.
In 1968, the parents were mailed a picture of a young man with the words "Louis Sodder" on the back. The identity of the man was never established, but the parents believed it was their missing son.
The local police took very little action to investigate the disappearances, believing the children had died in the fire. The local coroner declared the children legally dead.
One theory is that the children were kidnapped by a child selling agency. Suspiciously, two months before their house burned down, the Sodders were in an argument with another resident that had tried to sell them life insurance. The Sodders were warned that their house would burn down and the children would also vanish. Interestingly, this resident was also on the coroner's jury that ruled the fire was caused by faulty Christmas tree lights and hence accidental.
Another theory involves the Mafia. Mr. Sodder ran a coal trucking business and the whole industry was under pressure constantly from the Mafia. The Sodder family were of Italian descent (their original name being Soddu) and it may well have been the Mafia that set the fire and took the children, to punish Mr. Sodder for not paying up.
Exactly what happened to the children and their whereabouts was never established. Their parents died hoping the children were still alive, having spent their lives searching for evidence of what really happened on that fateful night.
Johnny Gosch
Johnny Gosch was a twelve year old boy doing his paper route, when on September 5, 1982, he and his friend were stopped by a man driving a Ford Fairlane, with out of state plates, asking for directions. Johnny told his friend that the man made him feel uncomfortable and so he left to go home, but was followed by a different man.
It was only when Johnny's parents began receiving phone calls from people asking where their newspapers were that they became aware that something was wrong. A search of the area found Johnny's paper wagon, just two blocks from their home.
The police struggled to find evidence so Johnny's mother hired a private investigator who uncovered evidence that her son had been sold to a pedophile ring.
In 1997 Noreen Gosch (his mother) allegedly received a visit from Johnny, now aged 27, who told her about the kidnapping but made her promise not to say anything, as he was fearful for his life. He was living under an assumed name and trying to keep away from his kidnappers. Johnny had showed his mother a birthmark, which was evidence enough for her, and was with another man, who it appeared he sought approval from before speaking.
In 2006 photographs of a child tied up were left on Noreen's doorstep, though these were thought to be a hoax and the boy in the pictures was not Johnny.
What happened to Johnny remains a mystery, with new evidence and theories regularly appearing. Whether the visit by Johnny was genuine is unknown and where he now is remains a mystery.
Ben Needham
Ben Needham was a 21 month old boy from Britain, on holiday on the Greek Island of Kos, visiting his mother's parents who lived there.
On the day Ben disappeared he was in the care of his grandparents, while his mum and her boyfriend were shopping. Ben was playing by the front door of the farmhouse, coming in and out quite happily, until at around 2:30pm, Ben's grandmother realized he had vanished.
A search of the area proved fruitless and his elder brother, Stephen, hadn't seen him either. The police were called and the search area widened, with his family being the prime suspects. Unfortunately, this delayed information about the missing boy being sent to docks and airports.
The case of Ben is still active and no one knows exactly what happened to him. Over the years there have been in excess of 300 reported sightings of the boy, and new pictures of Ben made using age-progressing technology have regularly been released.
Despite Ben being a British citizen, no British police officers have visited Kos to take part in the investigation of his disappearance. It is thought he was taken either for illegal adoption or child trafficking, and despite all the sightings his whereabouts has never been determined.
Lisa Irwin
Lisa Irwin was just ten months old when she vanished from her crib during the night, in Kansas City.
At 10:30pm on October 3, 2011 her mother, Deborah Bradley, checked in on Lisa and she was fast asleep. Her father, Jeremy Irwin, returned home at 4am after working and discovered that Lisa was missing. He immediately called the police. He also discovered lights on throughout the house, plus an open window and the front door left unlocked.
Initially suspicion fell on the parents, with Bradley being the main suspect. A cadaver dog found the scent of a dead body near the mother's bed, and numerous items were removed from the home for analysis. Two witnesses claimed to have seen a man walking down the street with the baby, but their descriptions of the man were wildly different.
Despite an investigation, the offer of a reward and hiring private detectives, no evidence of what happened to Lisa was ever found. At one point it was thought she had been found living with Gypsy's in Greece, but it was proven the child was not Lisa. The investigation continues and her parents still hold out hope that their daughter will be found.
Sky Metalwala
The disappearance of two year old Sky Metalwala is another mystery, with a massive manhunt involving the FBI and local police.
On November 6, 2011, Sky was left in a car for an hour in Bellevue, Washington, by his mother, Julia Biryukova. It was the not the first time he had been left in a car, but she had run out of gas and so she took his four year old sibling on the mile walk to a gas station to get gas, leaving Sky in an unlocked car. When she returned to the car, Sky was no longer there.
However, police refute the story saying that Biryukova never made that walk to the gas station or bought gas from it. Her story was, according to police, remarkably similar to an episode of "Law and Order".
Biryukova's story is full of holes, as police state that the car was in perfect working order and had plenty of gas. Biryukova refused to take a polygraph test and invoked her rights under the 5th amendment. She had previously left Sky in the car for an hour, on a hot day outside a Target store. Police and store staff had been called to find her to rescue the child from the baking car.
The separation between Biryukova and Sky's father, Solomon Metalwala was bitter, with Biryukova being accused of having a mental disorder; possibly undiagnosed post-natal depression.
Metalwala has fought for years to find out the truth behind the disappearance of Sky, although no evidence has been found. It is thought that Sky disappeared some time before he was actually reported, and even that Biryukova's father visited from the Ukraine and took Sky back with him.
After Sky's disappearance Maile, the other sibling, was taken into foster care. Custody was eventually granted to Metalwala.
The case is still open today with new leads being discovered, although both police and Metalwala believe that Biryukova is responsible for the disappearance. Whether she killed him deliberately or accidentally is unknown, but she refuses to co-operate with investigation. Police are still building a case and gathering evidence against her.
Three detectives continue to work on the case, and with any luck they will gather enough evidence to make their case and discover what really happened to Sky.
Endnote
Children going missing is always extremely disturbing. Since some of the early disappearances, parents have taken more care to educate their children to the dangers of strangers and to ensure that they do not travel alone.
As a parent, the safety of your children is paramount, and the ease with which some of these children have disappeared is truly frightening. Today some parents are using GPS trackers on their children, sometimes inserted under the skin, to ensure their safety and know where they are at all times. Others rely on the old fashioned methods of watching their children and keeping them close.
Even when you are out shopping, it is easy to be distracted and lose sight of your child for a few seconds, which is enough time for a predator to swoop in, as in the case of James Bulger.
But thanks to disappearances like Etan Patz and the tireless campaigning by some of the parents, there are better systems in place now to deal with the disappearance of children. The FBI can now get involved in these kidnappings, and the register of missing children, along with new laws, increase the chances of finding a missing child alive. Police now know that the first few hours are critical and so have a protocol in place to maximize their chances of finding the child alive.
Sadly though, the danger to children is still present and perhaps even more real today, with disappearances being highly publicized by the media. Anyone who has children will tell you that they watch their children like a hawk, keeping doors and windows locked and the child close when they are out. Even allowing a child to run ahead around the corner or lag behind while walking, gives a child snatcher all the time they need.
It is sad in many ways that we have to take these precautions. But paranoia as a parent leads to safe children, and almost every parent will tell you they never let their children out of their sight.
With the whereabouts of any of the children in this book unknown, we can only wish for the safe return of them all or at least some closure for the parents. A missing child is truly difficult to cope with, and we can only give our thoughts and prayers to the missing and their families, and our hope that they return home safely.
&nbsp
---